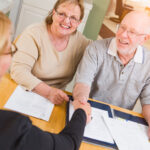 Unveiling the Assessment Process
At Caring Considerations/ Aging Life Care Managers®, we understand the intricate challenges families face while caring for seniors. Our assessments will create a roadmap for balanced, enriched, healthy living. We confront obstacles, align goals, and ensure documentation of your healthcare. Assessment can mean different things to you and to us. Here's our most common approach.
Through targeted questions and the gathering of information, we uncover your unique situation:
Health Snapshot: Medical history and recent physician visits.
Medication Check: Medication list and reviewing management systems.
Safe Spaces: Home assessment for secure aging.
Wellness: Nutrition and overall health.
Legal Review: Your documentation for incapacity planning.
Emotional Insights: Psychosocial understanding.
Future Readiness: Funeral plans and crisis prevention.
Create a Plan of Care and Informed Steps Ahead…
Our assessment also covers these crucial aspects:
Defining Goals: Your aspirations and their aspirations.
Addressing Concerns: Primary worries and fears.
Visualizing Success: Ideal outcomes for your family.
Effective Strategies: Past successes and failures.
Family Dynamics: Understanding inter-family conversations.
Comprehensive, Electronic Health Documentation…
We finish an assessment by providing a verbal and email report packed with insights and actionable recommendations.
What's your definition of an assessment? We want to know how we can elevate your family's quality of life. Contact us at 571-488-9396  [email protected]